Table of Contents
I'm a novelist and have an interest in space science and physics. I've been a programmer for more than 30 years and I like reviewing new and up-and-coming authors.
If you want me to review your novel, please look at my Rules on Reviewing page.

Please consider registering (see top of page) to help support this site. Your personal data isn't shared with anyone, but it makes me feel good.
---
Last Updated: 12:30:31 Sun Nov 19, 2023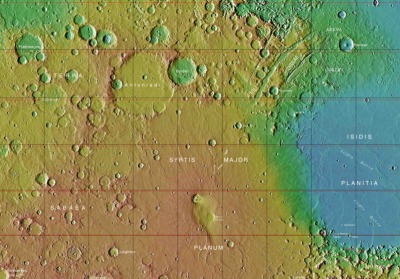 The Perseverance Rover, M20, is navigating its way around Jezero Crater, which is located on the flanks of Syrtis Major and to the North-West of the Isidis Basin. Jezero is easily identified the large mountain on it's Eastern crater wall.
To put things in perspective, Syrtis Major is a volcanic mountain, made from black volcanic basalt, covering over a million square kilometres and easily seen from Earth. In fact it's large, black mass was the first topological feature identified on Mars. Jezero Crater once contained a lake, with water inflowing from the North-West, and outflowing through a breach in the East-South-East. Where that water went may be the subject of future missions.
Perseverance has been examining the crater floor, testing its equipment, and is currently en-route to the silt fan, left by the water flowing into crater.
start.txt · Last modified: 2019/06/07 04:19 by Phil Ide
---