blog:aardvaark:mars_weather:weather_percy
Perseverance Rover
Last Updated: 18:15:02 Mon May 29, 2023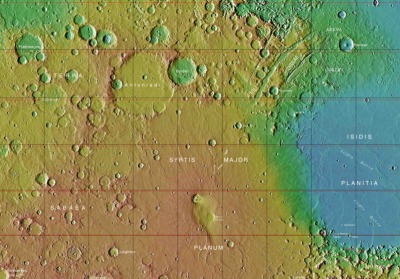 The Perseverance Rover, M20, is navigating its way around Jezero Crater, which is located on the flanks of Syrtis Major and to the North-West of the Isidis Basin. Jezero is easily identified the large mountain on it's Eastern crater wall.
To put things in perspective, Syrtis Major is a volcanic mountain, made from black volcanic basalt, covering over a million square kilometres and easily seen from Earth. In fact it's large, black mass was the first topological feature identified on Mars. Jezero Crater once contained a lake, with water inflowing from the North-West, and outflowing through a breach in the East-South-East. Where that water went may be the subject of future missions.
Perseverance has been examining the crater floor, testing its equipment, and is currently en-route to the silt fan, left by the water flowing into crater.
Historical Data
Data gathered from the NASA servers may be subject to corrections based on newer data. This is performed by NASA, not me. Any data that is within the last 7 data-rows is within the frame that may be updated. Any updates are automatically applied to the tables below, and all charts and derived tables (such as the record high and low temperatures) are updated accordingly.
Some tables show results after smoothing the data to remove anomolies. I have clearly marked all data that has been smoothed so there is no ambiguity. The method of smoothing out the anomolies is simple and efficient, although not guaranteed to remove them all. Essentially, if a temperature reading is ≥±10°C from the previous valid reading, it's probably an anomoly and is rejected.
Records (after smoothing out anomolies)
Temp
Date
Sol
Season
Seaon Start
Season End
Highest
-13
Dec 29, 2022
661
Spring
Dec 26, 2022
Jul 12, 2023
Lowest
-91
Sep 06, 2022
550
Winter
Jul 21, 2022
Dec 26, 2022
Time
Air Temperature (°C)
Pressure (Pa)
Sun
Date
Sol
Max
Avg
Min
Avg
Sunrise
Sunset
May 27, 2023
806
-20.7 C
-50.0 C
-79.2 C
739
05:19:33
18:27:04
May 26, 2023
805
-21 C
-48.3 C
-75.6 C
739.4
05:19:53
18:27:11
May 25, 2023
804
-21.5 C
-50.5 C
-79.4 C
739.7
05:20:14
18:27:17
May 24, 2023
803
-20.5 C
-48.3 C
-76 C
739.9
05:20:35
18:27:23
May 23, 2023
802
-18.2 C
-48.4 C
-78.5 C
740.9
05:20:56
18:27:30
May 22, 2023
801
-18.9 C
-48.6 C
-78.2 C
741.2
05:21:18
18:27:36
May 21, 2023
800
-19 C
-48.6 C
-78.1 C
741.4
05:21:40
18:27:42
May 20, 2023
799
-25.1 C
-51.6 C
-78.1 C
742.2
05:22:02
18:27:48
May 19, 2023
798
-21.6 C
-49.4 C
-77.1 C
742.4
05:22:24
18:27:55
May 18, 2023
797
-19.5 C
-49.3 C
-79.1 C
742.6
05:22:47
18:28:01
May 17, 2023
796
-18.2 C
-48.8 C
-79.4 C
743.2
05:23:10
18:28:07
May 16, 2023
795
-19.7 C
-48.3 C
-76.8 C
743.6
05:23:33
18:28:13
May 15, 2023
794
-21.9 C
-52.0 C
-82 C
744.6
05:23:56
18:28:20
May 13, 2023
793
-19.6 C
-48.9 C
-78.1 C
744.4
05:24:20
18:28:26
May 12, 2023
792
-23.6 C
-50.3 C
-76.9 C
745
05:24:44
18:28:32
May 11, 2023
791
-21 C
-49.6 C
-78.1 C
745.9
05:25:08
18:28:39
May 10, 2023
790
-21.1 C
-50.0 C
-78.9 C
746.3
05:25:32
18:28:45
May 9, 2023
789
-19.9 C
-49.3 C
-78.7 C
746.9
05:25:57
18:28:51
May 8, 2023
788
-19.4 C
-49.1 C
-78.8 C
746.5
05:26:21
18:28:57
May 7, 2023
787
-20.6 C
-50.7 C
-80.7 C
746.8
05:26:47
18:29:04
May 6, 2023
786
-22.1 C
-50.6 C
-79.1 C
746.9
05:27:12
18:29:10
May 5, 2023
785
-24.4 C
-51.3 C
-78.2 C
746.9
05:27:37
18:29:16
May 2, 2023
782
-27.3 C
-51.7 C
-76.1 C
746
05:28:56
18:29:35
Time
Air Temperature (°C)
Pressure (Pa)
Sun
Date
Sol
Max
Avg
Min
Avg
Sunrise
Sunset
Apr. 27, 2023
777
-28 C
-52.8 C
-77.5 C
747.3
05:31:11
18:30:07
Apr. 26, 2023
776
-26.9 C
-52.0 C
-77 C
747.4
05:31:38
18:30:14
Apr. 25, 2023
775
-29.3 C
-53.0 C
-76.7 C
748.5
05:32:06
18:30:20
Apr. 24, 2023
774
-28.8 C
-53.1 C
-77.4 C
747.3
05:32:34
18:30:27
Apr. 23, 2023
773
-27.1 C
-52.2 C
-77.2 C
746.7
05:33:03
18:30:33
Apr. 22, 2023
772
-27.2 C
-52.3 C
-77.4 C
746.6
05:33:31
18:30:40
Apr. 21, 2023
771
-27.3 C
-51.7 C
-76.1 C
746.6
05:34:00
18:30:46
Apr. 20, 2023
770
-26.9 C
-51.7 C
-76.4 C
745.8
05:34:29
18:30:53
Apr. 19, 2023
769
-27.7 C
-52.7 C
-77.7 C
745.8
05:34:58
18:30:59
Apr. 18, 2023
768
-25.5 C
-52.3 C
-79.1 C
746.2
05:35:28
18:31:06
Apr. 17, 2023
767
-26.5 C
-53.1 C
-79.6 C
746.7
05:35:58
18:31:13
Apr. 16, 2023
766
-26.5 C
-53.3 C
-80 C
747.1
05:36:27
18:31:19
Apr. 15, 2023
765
-21 C
-50.1 C
-79.1 C
748
05:36:57
18:31:26
Apr. 14, 2023
764
-19.1 C
-49.9 C
-80.7 C
747.4
05:37:28
18:31:33
Apr. 13, 2023
763
-20.1 C
-50.4 C
-80.6 C
747.6
05:37:58
18:31:39
Apr. 12, 2023
762
-20.5 C
-50.0 C
-79.4 C
749.1
05:38:29
18:31:46
Apr. 11, 2023
761
-26.4 C
-52.4 C
-78.4 C
748.3
05:39:00
18:31:53
Apr. 10, 2023
760
-25.5 C
-52.6 C
-79.7 C
747.5
05:39:31
18:31:59
Apr. 9, 2023
759
-26 C
-52.0 C
-78 C
747.1
05:40:02
18:32:06
Apr. 8, 2023
758
-20.3 C
-48.8 C
-77.3 C
746.9
05:40:34
18:32:13
Apr. 6, 2023
757
-19.9 C
-49.0 C
-78.1 C
746.5
05:41:05
18:32:20
Apr. 5, 2023
756
-19.3 C
-49.6 C
-79.8 C
746
05:41:37
18:32:27
Apr. 4, 2023
755
-19.1 C
-48.5 C
-77.9 C
745.6
05:42:09
18:32:33
Apr. 3, 2023
754
-26.6 C
-53.1 C
-79.6 C
744
05:42:42
18:32:40
Apr. 2, 2023
753
-19.7 C
-49.0 C
-78.3 C
745.9
05:43:14
18:32:47
Apr. 1, 2023
752
-20.1 C
-49.2 C
-78.2 C
746.2
05:43:47
18:32:54
Time
Air Temperature (°C)
Pressure (Pa)
Sun
Date
Sol
Max
Avg
Min
Avg
Sunrise
Sunset
Mar. 31, 2023
751
-18.6 C
-48.1 C
-77.6 C
745.3
05:44:19
18:33:01
Mar. 30, 2023
750
-21 C
-49.9 C
-78.8 C
745.6
05:44:52
18:33:08
Mar. 29, 2023
749
-19.9 C
-49.8 C
-79.7 C
746.6
05:45:26
18:33:15
Mar. 28, 2023
748
-19.3 C
-49.0 C
-78.7 C
746
05:45:59
18:33:22
Mar. 27, 2023
747
-19.8 C
-48.9 C
-77.9 C
746.8
05:46:32
18:33:29
Mar. 26, 2023
746
-19.6 C
-49.7 C
-79.8 C
746.6
05:47:06
18:33:36
Mar. 25, 2023
745
-19.2 C
-49.4 C
-79.5 C
746.8
05:47:40
18:33:43
Mar. 24, 2023
744
-22.9 C
-51.0 C
-79.1 C
745.6
05:48:14
18:33:50
Mar. 23, 2023
743
-21 C
-49.5 C
-77.9 C
745.5
05:48:48
18:33:57
Mar. 22, 2023
742
-20.3 C
-49.8 C
-79.3 C
743.9
05:49:22
18:34:04
Mar. 19, 2023
739
-18.6 C
-48.8 C
-79 C
743.1
05:51:06
18:34:25
Mar. 18, 2023
738
-19 C
-49.5 C
-79.9 C
743.5
05:51:41
18:34:32
Mar. 17, 2023
737
-18 C
-48.7 C
-79.3 C
741.5
05:52:16
18:34:39
Mar. 13, 2023
733
-24.2 C
-52.4 C
-80.6 C
742
05:54:37
18:35:07
Mar. 12, 2023
732
-14.1 C
-46.5 C
-78.9 C
741.8
05:55:13
18:35:14
Mar. 11, 2023
731
-16.2 C
-47.8 C
-79.4 C
741.5
05:55:49
18:35:21
Mar. 10, 2023
730
-21.4 C
-50.2 C
-78.9 C
740.9
05:56:24
18:35:28
Mar. 9, 2023
729
-21.2 C
-50.3 C
-79.4 C
740.3
05:57:00
18:35:35
Mar. 8, 2023
728
-21.8 C
-50.5 C
-79.1 C
739.9
05:57:37
18:35:42
Mar. 7, 2023
727
-23.4 C
-52.0 C
-80.6 C
740.4
05:58:13
18:35:50
Mar. 6, 2023
726
-19.2 C
-49.4 C
-79.6 C
740.8
05:58:49
18:35:57
Mar. 5, 2023
725
-22.3 C
-52.0 C
-81.6 C
740.1
05:59:26
18:36:03
Time
Air Temperature (°C)
Pressure (Pa)
Sun
Date
Sol
Max
Avg
Min
Avg
Sunrise
Sunset
Feb. 26, 2023
719
-15.3 C
-48.9 C
-82.5 C
738
06:03:07
18:36:45
Feb. 25, 2023
718
-16.6 C
-48.2 C
-79.7 C
737.3
06:03:44
18:36:52
Feb. 24, 2023
717
-13.4 C
-48.7 C
-83.9 C
738.2
06:04:21
18:36:59
Feb. 23, 2023
716
-18.4 C
-50.1 C
-81.7 C
738.1
06:04:58
18:37:05
Feb. 22, 2023
715
-20.7 C
-51.8 C
-82.9 C
737.3
06:05:36
18:37:12
Feb. 21, 2023
714
-17.3 C
-49.4 C
-81.5 C
737.5
06:06:13
18:37:19
Feb. 20, 2023
713
-17.3 C
-48.6 C
-79.8 C
738.1
06:06:51
18:37:26
Feb. 19, 2023
712
-17.6 C
-49.4 C
-81.1 C
739.2
06:07:28
18:37:32
Feb. 18, 2023
711
-17.1 C
-49.6 C
-82 C
736.4
06:08:06
18:37:39
Feb. 17, 2023
710
-17.9 C
-49.4 C
-80.8 C
736.1
06:08:44
18:37:45
Feb. 16, 2023
709
-17.6 C
-49.6 C
-81.5 C
736.9
06:09:21
18:37:52
Feb. 15, 2023
708
-16.3 C
-49.1 C
-81.8 C
738.8
06:09:59
18:37:58
Feb. 14, 2023
707
-14.3 C
-48.4 C
-82.4 C
737.7
06:10:37
18:38:05
Feb. 13, 2023
706
-15.8 C
-48.6 C
-81.3 C
735
06:11:15
18:38:11
Feb. 12, 2023
705
-15.3 C
-48.8 C
-82.3 C
734.3
06:11:53
18:38:17
Feb. 11, 2023
704
-15.7 C
-48.7 C
-81.6 C
736.8
06:12:31
18:38:24
Feb. 9, 2023
702
-17.8 C
-49.9 C
-82 C
735.8
06:13:47
18:38:36
Feb. 8, 2023
701
-20 C
-50.7 C
-81.4 C
733.5
06:14:25
18:38:42
Feb. 7, 2023
700
-19.7 C
-50.7 C
-81.7 C
734.6
06:15:03
18:38:48
Feb. 6, 2023
699
-16.1 C
-49.2 C
-82.3 C
736.8
06:15:41
18:38:54
Feb. 5, 2023
698
-14.7 C
-49.0 C
-83.3 C
735.7
06:16:19
18:39:00
Feb. 4, 2023
697
-21.9 C
-52.8 C
-83.6 C
738
06:16:57
18:39:05
Feb. 3, 2023
696
-19.4 C
-51.2 C
-82.9 C
736.5
06:17:35
18:39:11
Feb. 2, 2023
695
-18.2 C
-50.6 C
-83 C
732.2
06:18:14
18:39:17
Feb. 1, 2023
694
-16.6 C
-50.1 C
-83.6 C
732.1
06:18:52
18:39:22
Time
Air Temperature (°C)
Pressure (Pa)
Sun
Date
Sol
Max
Avg
Min
Avg
Sunrise
Sunset
Jan. 31, 2023
693
-15.7 C
-49.9 C
-84 C
736.3
06:19:30
18:39:27
Jan. 30, 2023
692
-19.7 C
-52.1 C
-84.5 C
733.3
06:20:08
18:39:33
Jan. 27, 2023
689
-20.6 C
-52.8 C
-85 C
731.5
06:22:03
18:39:48
Jan. 26, 2023
688
-20.8 C
-53.5 C
-86.2 C
732.8
06:22:41
18:39:53
Jan. 25, 2023
687
-17.8 C
-52.2 C
-86.6 C
733.9
06:23:19
18:39:58
Jan. 24, 2023
686
-19.4 C
-52.1 C
-84.8 C
732.6
06:23:57
18:40:03
Jan. 23, 2023
685
-20.2 C
-52.7 C
-85.2 C
733
06:24:35
18:40:07
Jan. 21, 2023
684
-20.4 C
-52.4 C
-84.4 C
733.1
06:25:13
18:40:12
Jan. 20, 2023
683
-20.2 C
-52.0 C
-83.7 C
730.9
06:25:51
18:40:16
Jan. 19, 2023
682
-18.9 C
-52.2 C
-85.4 C
727.2
06:26:29
18:40:20
Jan. 18, 2023
681
-15 C
-50.1 C
-85.2 C
731.2
06:27:06
18:40:25
Jan. 17, 2023
680
-20.4 C
-52.2 C
-84 C
727.4
06:27:44
18:40:29
Jan. 16, 2023
679
-21.3 C
-53.4 C
-85.5 C
729.3
06:28:22
18:40:33
Jan. 15, 2023
678
-20.3 C
-52.4 C
-84.4 C
731.2
06:29:00
18:40:36
Jan. 14, 2023
677
-13.8 C
-50.0 C
-86.2 C
728.2
06:29:37
18:40:40
Jan. 13, 2023
676
-13.4 C
-49.4 C
-85.4 C
728.2
06:30:15
18:40:43
Jan. 12, 2023
675
-14.6 C
-49.8 C
-85 C
728.4
06:30:52
18:40:47
Jan. 11, 2023
674
-18.2 C
-51.5 C
-84.8 C
727.4
06:31:30
18:40:50
Jan. 10, 2023
673
-20.3 C
-53.7 C
-87.1 C
728
06:32:07
18:40:53
Jan. 9, 2023
672
-20.1 C
-53.1 C
-86 C
730.9
06:32:44
18:40:56
Jan. 8, 2023
671
-18.9 C
-52.1 C
-85.2 C
728.4
06:33:21
18:40:58
Jan. 7, 2023
670
-17.1 C
-51.8 C
-86.4 C
727
06:33:58
18:41:01
Jan. 6, 2023
669
-13.3 C
-50.0 C
-86.6 C
727.1
06:34:35
18:41:03
Jan. 5, 2023
668
-14.2 C
-49.9 C
-85.5 C
727
06:35:12
18:41:06
Jan. 4, 2023
667
-13 C
-48.4 C
-83.8 C
724.8
06:35:49
18:41:08
Jan. 3, 2023
666
-16.8 C
-51.3 C
-85.7 C
723.1
06:36:25
18:41:10
Jan. 2, 2023
665
-17.8 C
-51.4 C
-84.9 C
727.5
06:37:02
18:41:11
Jan. 1, 2023
664
-19.9 C
-52.6 C
-85.3 C
726.8
06:37:38
18:41:13
Time
Air Temperature (°C)
Pressure (Pa)
Sun
Date
Sol
Max
Avg
Min
Avg
Sunrise
Sunset
Dec. 31, 2022
663
-13.3 C
-49.3 C
-85.3 C
724.6
06:38:15
18:41:14
Dec. 30, 2022
662
-14.4 C
-50.3 C
-86.1 C
727
06:38:51
18:41:15
Dec. 29, 2022
661
-13 C
-48.0 C
-83 C
724.6
06:39:27
18:41:16
Dec. 28, 2022
660
-13.2 C
-49.5 C
-85.8 C
724
06:40:03
18:41:17
Dec. 27, 2022
659
-14.1 C
-48.4 C
-82.7 C
730.3
06:40:38
18:41:17
Dec. 26, 2022
658
-13.1 C
-47.6 C
-82 C
726.5
06:41:14
18:41:18
Dec. 25, 2022
657
-13.2 C
-48.7 C
-84.1 C
726
06:41:49
18:41:18
Dec. 24, 2022
656
-15.2 C
-49.9 C
-84.6 C
729.8
06:42:24
18:41:18
Dec. 23, 2022
655
-16.5 C
-50.8 C
-85 C
728.4
06:43:00
18:41:17
Dec. 22, 2022
654
-13.4 C
-48.0 C
-82.6 C
723
06:43:34
18:41:17
Dec. 21, 2022
653
-21.7 C
-53.9 C
-86 C
725.8
06:44:09
18:41:16
Dec. 20, 2022
652
-25.7 C
-56.2 C
-86.7 C
732.1
06:44:44
18:41:15
Dec. 19, 2022
651
-18.4 C
-51.6 C
-84.8 C
721.5
06:45:18
18:41:14
Dec. 18, 2022
650
-22.9 C
-54.4 C
-85.9 C
724.3
06:45:52
18:41:13
Dec. 17, 2022
649
-23.9 C
-54.7 C
-85.5 C
727.2
06:46:26
18:41:11
Dec. 15, 2022
648
-18.1 C
-51.1 C
-84 C
719.6
06:47:00
18:41:09
Dec. 14, 2022
647
-20.6 C
-52.3 C
-83.9 C
719.7
06:47:34
18:41:07
Dec. 13, 2022
646
-21.4 C
-52.5 C
-83.5 C
720.1
06:48:07
18:41:04
Dec. 12, 2022
645
-18.2 C
-50.0 C
-81.7 C
718.9
06:48:41
18:41:02
Dec. 11, 2022
644
-21.2 C
-51.4 C
-81.6 C
717.3
06:49:14
18:40:59
Dec. 10, 2022
643
-22.1 C
-51.6 C
-81 C
715.8
06:49:46
18:40:56
Dec. 9, 2022
642
-23.8 C
-53.7 C
-83.6 C
720.7
06:50:19
18:40:52
Dec. 8, 2022
641
-13.4 C
-47.7 C
-82 C
718.9
06:50:51
18:40:48
Dec. 7, 2022
640
-17.6 C
-50.7 C
-83.8 C
717.7
06:51:23
18:40:44
Dec. 6, 2022
639
-18.9 C
-51.6 C
-84.2 C
720.7
06:51:55
18:40:40
Dec. 5, 2022
638
-16.5 C
-49.7 C
-82.8 C
717.9
06:52:27
18:40:36
Dec. 4, 2022
637
-16.6 C
-49.9 C
-83.1 C
719.4
06:52:58
18:40:31
Dec. 3, 2022
636
-17.1 C
-48.7 C
-80.3 C
717.2
06:53:29
18:40:26
Dec. 2, 2022
635
-15.7 C
-49.0 C
-82.3 C
712.1
06:54:00
18:40:20
Dec. 1, 2022
634
-19.5 C
-52.1 C
-84.6 C
720.4
06:54:31
18:40:14
Time
Air Temperature (°C)
Pressure (Pa)
Sun
Date
Sol
Max
Avg
Min
Avg
Sunrise
Sunset
Nov. 30, 2022
633
-16.3 C
-50.3 C
-84.2 C
720.1
06:55:01
18:40:08
Nov. 29, 2022
632
-16.9 C
-48.5 C
-80.1 C
722.4
06:55:31
18:40:02
Nov. 28, 2022
631
-21.5 C
-51.5 C
-81.5 C
718.8
06:56:00
18:39:55
Nov. 27, 2022
630
-18.1 C
-48.9 C
-79.7 C
718.5
06:56:30
18:39:48
Nov. 26, 2022
629
-22.6 C
-52.5 C
-82.3 C
722.4
06:56:59
18:39:41
Nov. 25, 2022
628
-15.6 C
-49.3 C
-83 C
717.7
06:57:28
18:39:34
Nov. 24, 2022
627
-19.5 C
-50.0 C
-80.4 C
725.2
06:57:56
18:39:26
Nov. 23, 2022
626
-17.1 C
-50.0 C
-82.9 C
723.4
06:58:25
18:39:17
Nov. 22, 2022
625
-17.1 C
-50.1 C
-83 C
718.8
06:58:52
18:39:09
Nov. 21, 2022
624
-16.5 C
-49.0 C
-81.5 C
719.7
06:59:20
18:39:00
Nov. 20, 2022
623
-17.5 C
-49.9 C
-82.2 C
719.5
06:59:47
18:38:51
Nov. 19, 2022
622
-17.8 C
-50.0 C
-82.2 C
721.4
07:00:14
18:38:41
Nov. 18, 2022
621
-17.2 C
-50.5 C
-83.8 C
720.8
07:00:41
18:38:31
Nov. 17, 2022
620
-18.9 C
-50.4 C
-81.8 C
725.5
07:01:07
18:38:21
Nov. 16, 2022
619
-18.9 C
-51.0 C
-83 C
723.6
07:01:33
18:38:10
Nov. 15, 2022
618
-19.1 C
-50.3 C
-81.5 C
721.7
07:01:58
18:37:59
Nov. 14, 2022
617
-15.1 C
-49.3 C
-83.4 C
715.3
07:02:23
18:37:48
Nov. 13, 2022
616
-20.7 C
-51.8 C
-82.8 C
723.3
07:02:48
18:37:36
Nov. 12, 2022
615
-16.4 C
-49.3 C
-82.1 C
718
07:03:12
18:37:24
Nov. 11, 2022
614
-16.9 C
-49.7 C
-82.4 C
720.4
07:03:36
18:37:11
Nov. 10, 2022
613
-19.5 C
-50.7 C
-81.8 C
725.1
07:04:00
18:36:58
Nov. 9, 2022
612
-16.7 C
-49.0 C
-81.3 C
717.7
07:04:23
18:36:45
Nov. 7, 2022
611
-17.4 C
-50.0 C
-82.6 C
722.7
07:04:46
18:36:32
Nov. 6, 2022
610
-20.8 C
-50.9 C
-81 C
725.8
07:05:08
18:36:18
Nov. 5, 2022
609
-19.2 C
-50.4 C
-81.6 C
721.4
07:05:30
18:36:03
Nov. 4, 2022
608
-20.3 C
-51.9 C
-83.4 C
725.8
07:05:52
18:35:48
Nov. 3, 2022
607
-18.1 C
-50.3 C
-82.5 C
722.6
07:06:13
18:35:33
Time
Air Temperature (°C)
Pressure (Pa)
Sun
Date
Sol
Max
Avg
Min
Avg
Sunrise
Sunset
Oct. 31, 2022
604
-20.3 C
-51.8 C
-83.2 C
721
07:07:14
18:34:45
Oct. 30, 2022
603
-19 C
-51.6 C
-84.2 C
724.5
07:07:33
18:34:28
Oct. 29, 2022
602
-20.6 C
-52.2 C
-83.8 C
724.7
07:07:52
18:34:11
Oct. 28, 2022
601
-20.5 C
-51.4 C
-82.2 C
726.4
07:08:11
18:33:53
Oct. 27, 2022
600
-20.5 C
-52.0 C
-83.5 C
723.5
07:08:29
18:33:35
Oct. 26, 2022
599
-20.8 C
-52.6 C
-84.3 C
723.6
07:08:46
18:33:17
Oct. 25, 2022
598
-20.4 C
-51.8 C
-83.1 C
723.2
07:09:03
18:32:58
Oct. 24, 2022
597
-21.4 C
-52.7 C
-84 C
724.9
07:09:20
18:32:39
Oct. 23, 2022
596
-22.9 C
-52.5 C
-82 C
731.8
07:09:36
18:32:19
Oct. 22, 2022
595
-21.9 C
-52.3 C
-82.6 C
723.9
07:09:51
18:31:59
Oct. 21, 2022
594
-21.8 C
-52.4 C
-83 C
729.3
07:10:06
18:31:38
Oct. 20, 2022
593
-23.9 C
-53.1 C
-82.3 C
729.2
07:10:21
18:31:17
Oct. 19, 2022
592
-20.9 C
-51.7 C
-82.4 C
727.2
07:10:35
18:30:56
Oct. 18, 2022
591
-24.4 C
-53.7 C
-83 C
731.5
07:10:48
18:30:34
Oct. 17, 2022
590
-21 C
-52.4 C
-83.8 C
731
07:11:01
18:30:12
Oct. 16, 2022
589
-18.5 C
-51.0 C
-83.4 C
732.8
07:11:14
18:29:49
Oct. 15, 2022
588
-16.8 C
-50.2 C
-83.6 C
730.9
07:11:25
18:29:26
Oct. 14, 2022
587
-24.6 C
-53.8 C
-83 C
732.5
07:11:37
18:29:02
Oct. 13, 2022
586
-22.1 C
-52.0 C
-81.9 C
734.3
07:11:47
18:28:38
Oct. 12, 2022
585
-21.8 C
-51.9 C
-82 C
734
07:11:58
18:28:14
Oct. 11, 2022
584
-23.1 C
-52.4 C
-81.7 C
735.8
07:12:07
18:27:49
Oct. 10, 2022
583
-22.8 C
-53.2 C
-83.5 C
734.3
07:12:16
18:27:24
Oct. 9, 2022
582
-20 C
-51.7 C
-83.4 C
737.3
07:12:25
18:26:58
Oct. 8, 2022
581
-21.1 C
-51.6 C
-82 C
734.6
07:12:33
18:26:31
Oct. 7, 2022
580
-25 C
-53.4 C
-81.8 C
734.6
07:12:40
18:26:05
Oct. 6, 2022
579
-26.7 C
-54.5 C
-82.2 C
735.7
07:12:47
18:25:38
Oct. 5, 2022
578
-24.6 C
-53.2 C
-81.7 C
732.6
07:12:53
18:25:10
Oct. 4, 2022
577
-29 C
-55.4 C
-81.7 C
733.9
07:12:58
18:24:42
Oct. 3, 2022
576
-27.5 C
-54.9 C
-82.3 C
738
07:13:03
18:24:14
Oct. 1, 2022
575
-25.7 C
-54.1 C
-82.5 C
741.8
07:13:07
18:23:45
Time
Air Temperature (°C)
Pressure (Pa)
Sun
Date
Sol
Max
Avg
Min
Avg
Sunrise
Sunset
Sep. 30, 2022
574
-22.3 C
-53.1 C
-83.8 C
743.8
07:13:11
18:23:16
Sep. 29, 2022
573
-20.8 C
-50.9 C
-81 C
737.4
07:13:14
18:22:46
Sep. 28, 2022
572
-19.2 C
-52.2 C
-85.2 C
729.2
07:13:17
18:22:16
Sep. 27, 2022
571
-21.2 C
-52.8 C
-84.3 C
737.7
07:13:18
18:21:45
Sep. 26, 2022
570
-19 C
-51.7 C
-84.3 C
739.4
07:13:19
18:21:14
Sep. 25, 2022
569
-18.4 C
-51.6 C
-84.7 C
733.2
07:13:20
18:20:43
Sep. 24, 2022
568
-18.5 C
-52.1 C
-85.7 C
738.4
07:13:20
18:20:11
Sep. 23, 2022
567
-18.6 C
-53.3 C
-88 C
743.5
07:13:19
18:19:39
Sep. 22, 2022
566
-20.4 C
-53.9 C
-87.4 C
747.7
07:13:17
18:19:06
Sep. 21, 2022
565
-20 C
-54.2 C
-88.4 C
754.2
07:13:15
18:18:33
Sep. 20, 2022
564
-18.7 C
-52.6 C
-86.4 C
746
07:13:12
18:17:59
Sep. 19, 2022
563
-21.7 C
-54.2 C
-86.6 C
757.7
07:13:09
18:17:25
Sep. 18, 2022
562
-19 C
-52.8 C
-86.5 C
744.6
07:13:04
18:16:51
Sep. 17, 2022
561
-27.3 C
-58.0 C
-88.6 C
748.3
07:13:00
18:16:16
Sep. 14, 2022
558
-19.6 C
-53.8 C
-87.9 C
754.5
07:12:41
18:14:30
Sep. 13, 2022
557
-19.4 C
-52.8 C
-86.2 C
753.6
07:12:33
18:13:54
Sep. 12, 2022
556
-22.4 C
-55.5 C
-88.6 C
756.5
07:12:25
18:13:17
Sep. 11, 2022
555
-19.5 C
-54.2 C
-88.8 C
749.8
07:12:16
18:12:40
Sep. 10, 2022
554
-20.2 C
-54.8 C
-89.3 C
752.9
07:12:06
18:12:03
Sep. 9, 2022
553
-20 C
-54.3 C
-88.5 C
754
07:11:56
18:11:25
Sep. 8, 2022
552
-20.4 C
-54.6 C
-88.7 C
756.2
07:11:44
18:10:47
Sep. 7, 2022
551
-20.3 C
-55.3 C
-90.2 C
760.8
07:11:33
18:10:08
Sep. 6, 2022
550
-21.7 C
-56.4 C
-91 C
757.5
07:11:20
18:09:30
Sep. 5, 2022
549
-21.5 C
-55.7 C
-89.9 C
760.3
07:11:07
18:08:51
Sep. 4, 2022
548
-20.3 C
-54.9 C
-89.5 C
756.4
07:10:53
18:08:11
Sep. 3, 2022
547
-23.8 C
-56.8 C
-89.8 C
759.2
07:10:38
18:07:31
Sep. 2, 2022
546
-21.1 C
-55.2 C
-89.2 C
758
07:10:23
18:06:51
Sep. 1, 2022
545
-24.5 C
-57.6 C
-90.7 C
764.2
07:10:06
18:06:11
Time
Air Temperature (°C)
Pressure (Pa)
Sun
Date
Sol
Max
Avg
Min
Avg
Sunrise
Sunset
Aug. 31, 2022
544
-26.4 C
-57.8 C
-89.2 C
768.1
07:09:50
18:05:31
Aug. 30, 2022
543
-20.7 C
-55.1 C
-89.5 C
761.7
07:09:32
18:04:50
Aug. 29, 2022
542
-22.4 C
-55.7 C
-89 C
763
07:09:14
18:04:09
Aug. 28, 2022
541
-21 C
-55.5 C
-89.9 C
760.5
07:08:55
18:03:27
Aug. 27, 2022
540
-26.7 C
-58.4 C
-90 C
769.6
07:08:35
18:02:46
Aug. 26, 2022
539
-21 C
-54.4 C
-87.8 C
765.1
07:08:15
18:02:04
Aug. 24, 2022
538
-21 C
-53.5 C
-86 C
764.6
07:07:54
18:01:22
Aug. 23, 2022
537
-23 C
-54.9 C
-86.8 C
766.9
07:07:32
18:00:39
Aug. 22, 2022
536
-24.2 C
-55.5 C
-86.8 C
767.5
07:07:09
17:59:57
Aug. 21, 2022
535
-22.5 C
-54.0 C
-85.5 C
771.7
07:06:46
17:59:14
Aug. 20, 2022
534
-21.3 C
-54.1 C
-86.9 C
766.6
07:06:22
17:58:31
Aug. 19, 2022
533
-23.2 C
-54.8 C
-86.4 C
768.6
07:05:57
17:57:48
Aug. 18, 2022
532
-21.5 C
-53.8 C
-86.1 C
768.5
07:05:32
17:57:05
Aug. 17, 2022
531
-21.5 C
-53.5 C
-85.5 C
767.3
07:05:06
17:56:21
Aug. 16, 2022
530
-21.6 C
-53.0 C
-84.3 C
768.8
07:04:39
17:55:38
Aug. 15, 2022
529
-23.8 C
-55.4 C
-87 C
773.2
07:04:12
17:54:54
Aug. 14, 2022
528
-24.9 C
-56.4 C
-87.8 C
779.8
07:03:44
17:54:10
Aug. 13, 2022
527
-21.9 C
-54.2 C
-86.5 C
775.9
07:03:15
17:53:26
Aug. 12, 2022
526
-22.1 C
-54.9 C
-87.6 C
775
07:02:46
17:52:42
Aug. 11, 2022
525
-23.2 C
-55.1 C
-87 C
775.4
07:02:16
17:51:58
Aug. 10, 2022
524
-23.6 C
-55.1 C
-86.5 C
779.2
07:01:45
17:51:14
Aug. 9, 2022
523
-21.8 C
-53.6 C
-85.4 C
780.3
07:01:14
17:50:30
Aug. 8, 2022
522
-25.8 C
-56.5 C
-87.2 C
780.9
07:00:42
17:49:46
Aug. 7, 2022
521
-26.4 C
-56.2 C
-85.9 C
785.4
07:00:09
17:49:02
Aug. 6, 2022
520
-24.8 C
-55.7 C
-86.5 C
781.7
06:59:36
17:48:17
Aug. 5, 2022
519
-22.1 C
-55.2 C
-88.2 C
778.3
06:59:02
17:47:33
Time
Air Temperature (°C)
Pressure (Pa)
Sun
Date
Sol
Max
Avg
Min
Avg
Sunrise
Sunset
July 18, 2022
502
-23.7 C
-54.1 C
-84.5 C
790.9
06:48:01
17:35:16
July 17, 2022
501
-22.9 C
-53.5 C
-84 C
790
06:47:18
17:34:34
July 16, 2022
500
-28.1 C
-56.0 C
-83.9 C
794.3
06:46:34
17:33:52
July 15, 2022
499
-22.9 C
-53.7 C
-84.4 C
788.8
06:45:50
17:33:11
July 14, 2022
498
-26.5 C
-55.6 C
-84.7 C
789.1
06:45:06
17:32:30
July 13, 2022
497
-28.5 C
-56.3 C
-84 C
792
06:44:21
17:31:50
July 12, 2022
496
-25.2 C
-54.7 C
-84.2 C
792.8
06:43:35
17:31:10
Time
Air Temperature (°C)
Pressure (Pa)
Sun
Date
Sol
Max
Avg
Min
Avg
Sunrise
Sunset
June 20, 2022
474
-26.1 C
-54.2 C
-82.3 C
800.5
06:25:58
17:18:09
June 19, 2022
473
-24.3 C
-54.0 C
-83.7 C
798.2
06:25:09
17:17:40
June 18, 2022
472
-26.5 C
-54.2 C
-81.8 C
815
06:24:19
17:17:11
June 17, 2022
471
-23.6 C
-53.0 C
-82.3 C
799.4
06:23:30
17:16:42
blog/aardvaark/mars_weather/weather_percy.txt · Last modified: 2023/05/29 17:19 by 127.0.0.1
---