blog:articles:general:orbitalcalc_update_1005
Orbital Calculator v1.0.0.5 Update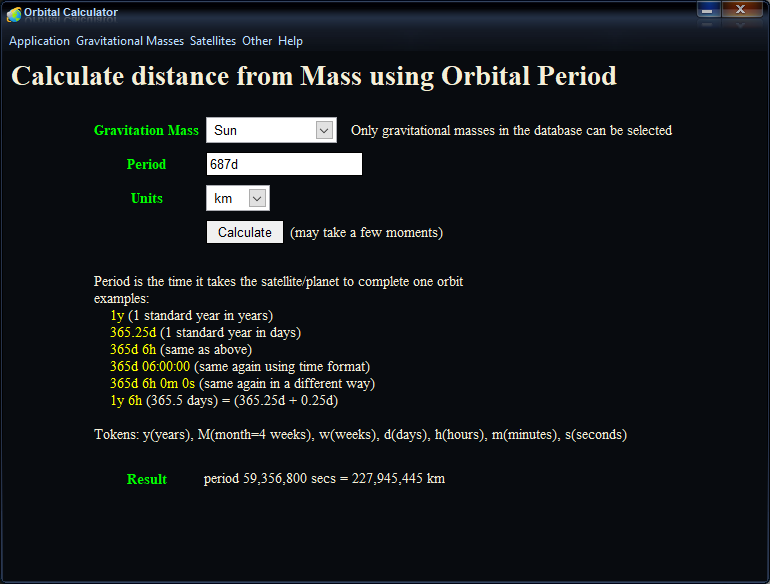 You can now calculate distance from a gravitational mass using the orbital period. The image above shows a calculation for Mars which has a 687 day year.
I've allowed the use of tokens to identify time components to make it easy to use. The examples shown in the image should explain how it works.
The description page for Orbital Calculator can be found hereplugin-autotooltip__default plugin-autotooltip_bigOrbital Calculator

I needed to calculate orbital characteristics for any orbit around any gravitational mass (because I write sci-fi stories), so I wrote this program because I'm a programmer and I'm too lazy to do it by hand all the time. The program has expanded over the last few years, sometimes from suggestions by other writers. I make it freely available and as simple to use as possible. It now has a list of functions as long as your arm (assuming you're not a tentacle user), and the numbe….
The download page can be found hereplugin-autotooltip__default plugin-autotooltip_bigDownloads

Orbital Calculator Current Version This is a portable application, meaning there is no installer. Just unzip into a folder and run the executable. Since it is portable, it can be run from a USB stick.

A full description and a list of the features are available.
blog/articles/general/orbitalcalc_update_1005.txt · Last modified: 2019/03/06 10:37 by Phil Ide
---