blog:articles_on_writing:story_structure
Table of Contents
Story Structure (Hero's Journey)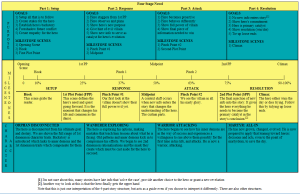 The Hero's Journey is an overlay for the 4-part story structure. See how they work in conjunction with the character arc.
---
Click on this image to review it, then click it again to see it full size
Other Structures
You might also want to investigate these structures:
Two part structure

Three part structure

Four part structure

Five part structure

Eight part structure

Spiral structure
Purpose of Structure
Once you understand the purpose of structure, you can do away with it and rely on a strong cause and effect trajectory. Doing so without realising what you're getting rid of is likely to end in failure.
The role of structure is to provide a method of progressing the story such that the reader can see it is progressing, and to do so at timely intervals so the reader doesn't get bored waiting for something to happen. That something has to do more than throw some action into the story. In fact, it doesn't need to be action at all, but what it must do is move the story along. The hero must learn something new (and critical) or gain some new skill or artifact (needed to defeat the antagonist or complete the quest), or punch through another layer of the antagonist's defences. Having action sequences just for their own sake to spice up the story doesn't count because they don't move the story along.
Structures often work in conjunction with the character arc, but not always. The list of structures above is not exhaustive - there are others. In addition, once you understand how structure differs from formula, you can begin to improvise structures of your own, either by modifying an existing structure, merging two or more structures or by shaping an entirely new structure.
blog/articles_on_writing/story_structure.txt · Last modified: 2019/12/17 12:21 by Phil Ide
---