blog:book_reviews:sci-fi:andrew_bannister:iron_gods
Iron Gods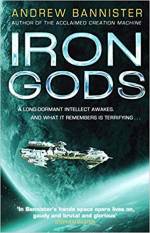 Another novel of The Spin, and following on from Creation Machine, Iron Gods continues in much the same vein. There are intriguing and plausible characters, a spaceship AI that has had its lobotomy reversed, strange worlds and even stranger economic forces.
It's hard to describe the story without spoilers, but suffice to say it is a rip-roaring adventure, space-opera style. While it isn't necessary to read Creation Machine – Iron Gods is a stand-alone novel – it certainly helps. There is also a hint, subtly buried in the story (and easily forgotten) this this and its earlier companion story are part of a larger whole.
There are weird and creepy creatures to freak you out, the subtleties of tyrannical politics to delight in, and an ever-present sense of something big happening. With Bannister's pervasive humour reaching all corners, elements of horror and a twisting plot, this is a story to feast on. Highly recommended.
See Also: Creation Machine, Iron Gods, Stone Clock
blog/book_reviews/sci-fi/andrew_bannister/iron_gods.txt · Last modified: 2021/08/12 07:37 by Phil Ide
---