blog:book_reviews:sci-fi:andrew_bannister:iron_gods
Iron Gods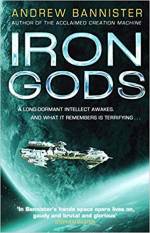 Another novel of The Spin, and following on from Creation Machine, Iron Gods continues in much the same vein. There are intriguing and plausible characters, a spaceship AI that has had its lobotomy reversed, strange worlds and even stranger economic forces.
It's hard to describe the story without spoilers, but suffice to say it is a rip-roaring adventure, space-opera style. While it isn't necessary to read Creation Machine – Iron Gods is a stand-alone novel – it certainly helps. There is also a hint, subtly buried in the story (and easily forgotten) this this and its earlier companion story are part of a larger whole.
There are weird and creepy creatures to freak you out, the subtleties of tyrannical politics to delight in, and an ever-present sense of something big happening. With Bannister's pervasive humour reaching all corners, elements of horror and a twisting plot, this is a story to feast on. Highly recommended.
See Also: Creation Machineplugin-autotooltip__default plugin-autotooltip_bigCreation Machine

Andrew Bannister's "Creation Machine" is the best novel I've read this year – and that's saying something, I've read some of the best sci-fi novels from the last five years in the last ten months.

The breadth and depth of his imagination is incredible. He's created an entire artificial galaxy, given it character and taken us on a tour that is as exciting as it is varied., Iron Gods, Stone Clockplugin-autotooltip__default plugin-autotooltip_bigStone Clock

The third outing in The Spin series from acclaimed author Andrew Bannister, Stone Clock, has a dark edge to it. Already an accomplished writer, Bannister has taken things up a notch.

His usual mélange of lucid and slightly demented imagination is in full force, and the array of modes of humour are all present and permeate the pages as if they'd been dipped in the stuff.
blog/book_reviews/sci-fi/andrew_bannister/iron_gods.txt · Last modified: 2021/08/12 07:37 by Phil Ide
---