blog:aardvaark:perseverancerover:mission_status
Mission Status
Perserverance has now landed successfully, and the clock is now counting mission time.
Watch this page for updated information as we move beyond landing
The rover landed about a kilometre off-centre of its landing zone, and about 2km from the base of the cliffs at the edge of the silt fan (part of the influx delta complex). The provisional location is <del>77.4508E / 18.4446N

Location: 77.45088572E / 18.44462715N
The landing site has been designated as the Octavia E. Butler Landing.
Thumbnail to help Facebook: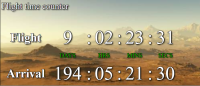 Orbital Shenanigansplugin-autotooltip__default plugin-autotooltip_bigOrbital Shenanigans

[MOLA map of Mars coloured by elevation]

Edited: 2019-03-14

Sometimes when you do some research – actually, quite often – you find out some really interesting stuff and end up changing your mind. In my story, I had some people on the ground on Mars, and wanted a spacecraft in a geostationary orbit above them to give them communications between them at all times. Just for info, when talking about geostationary orbits, the accepted term for Mars is aerostationary. I'll use g… | Mars Solar Conjunctionsplugin-autotooltip__default plugin-autotooltip_bigMars Solar Conjunction

This page is currently INACTIVE for 2021 conjunction

Mars is heading for a solar conjunction, which in layman's terms means it's on the opposite side of the sun from the Earth. For a short period, no commands will be sent to the Mars spacecraft (which includes landers and rovers) since the sun's corona could corrupt those commands and result in unintended actions, disablement of the spacecraft or worse. | Mars Weatherplugin-autotooltip__default plugin-autotooltip_bigMars Weather Reports

This webpage will soon be converted to be the top level page for Mars Weather Reports. It will contain links to the sub-pages, the clocks, the current location of Mars graphic and other data not spcific to the weather readings. The sub-pages will display the weather data from Insight, Curiosity and Perseverance. | 7 Minutes of Terrorplugin-autotooltip__default plugin-autotooltip_big7 Minutes of Terror

[7 mins of terror]It takes seven minutes for a vehicles to descend through the Martian atmosphere to the surface. The distance between Earth and Mars is always greater than seven light minutes when these landings take place, so by the time Earth gets the message that the vehicles has made contact with the atmosphere, it is already on the ground. Hopefully in one piece.
blog/aardvaark/perseverancerover/mission_status.txt · Last modified: 2021/03/13 10:18 by Phil Ide
---