Table of Contents
I'm a novelist and have an interest in space science and physics. I've been a programmer for more than 30 years and I like reviewing new and up-and-coming authors.
If you want me to review your novel, please look at my Rules on Reviewingplugin-autotooltip__default plugin-autotooltip_bigRules on Reviewing

First off, you should know I only have a limited amount of time, so I can't review a hundred novels at once. Sorry, but that's basic physics for you. If I agree to review your novel, you may have to wait a while for me to get around to it, and then I'll need time to read it. I only review hard copies. page.

Please consider registering (see top of page) to help support this site. Your personal data isn't shared with anyone, but it makes me feel good.
---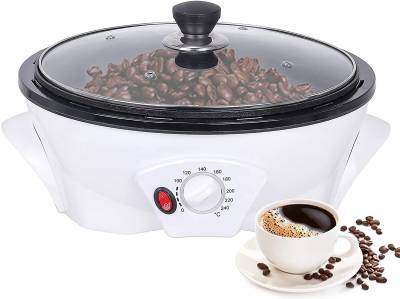 In 2021 I decided to take my love for coffee a stage further. For quite a few years I'd been making my own blends from pre-roasted beans, and that had met with varying amounts of success (as you can probably imagine). That is until I started getting serious with it and making charts with the various flavours and notes I perceived and what the strengths were of these and whether they were desirable or not. For example, I might taste a berry flavour, and depending upon how strong that flavour was I'd give it a numerical value. If it was undesirable, it was a negative value.
Using these charts I could blend different beans (they might be roasted lighter or darker, or be from different regions) and in the right ratios, the negative flavours could be minimised and the desirable flavours enhanced. With a bit of skill and experience, the right flavours could be balanced - you do have the numbers after all. It's a simple but very effective system.
It stands to reason then, that one day I'd want to start roasting my own beans.
→ Read more...plugin-autotooltip__default plugin-autotooltip_bigCoffee Blog: 2022-05-15

In 2021 I decided to take my love for coffee a stage further. For quite a few years I'd been making my own blends from pre-roasted beans, and that had met with varying amounts of success (as you can probably imagine). That is until I started getting serious with it and making charts with the various flavours and notes I perceived and what the strengths were of these and whether they were desirable or not. For example, I might taste a berry flavour, and depending upon ho…
start.txt · Last modified: 2019/06/07 04:19 by Phil Ide
---