blog:articles:info:hogfather_update02
Media Manager
Namespaces
Choose namespace
Media Files
Files in blog:articles_on_writing
File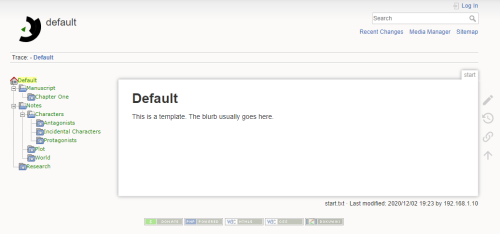 Date:

2020/12/12 14:17

Filename:

animal_template.png

Format:

PNG

Size:

37KB

Width:

1036

Height:

486
References for:

Animal Farm Part 2

plugin-autotooltip__default plugin-autotooltip_big

Animal Farm Part 2



In an earlier article I explained why using a wiki farm could be productive for someone who is on the move or likes to preserve previous versions of documents, and also for someone like me who uses multiple operating systems.

It's worth noting too that collaborating becomes a lot easier using a wiki, and since the platform preserves old versions of each document, it provides a safety net too. That aside, I thought I'd share how this all works for the user.
blog/articles/info/hogfather_update02.txt · Last modified: 2020/08/02 12:00 by Phil Ide
---