blog:articles:info:hogfather_update02
Media Manager
Namespaces
Choose namespace
Media Files
Files in blog:articles:info
File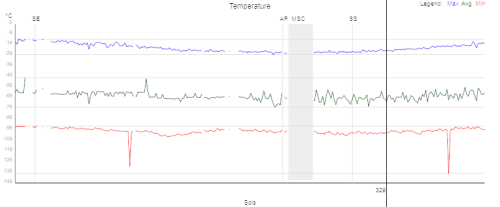 Date:

2020/01/01 14:27

Filename:

temp_over_time2.png

Format:

PNG

Size:

39KB

Width:

814

Height:

338
References for:

Mars Weather Page Update

plugin-autotooltip__default plugin-autotooltip_big

Mars Weather Page Update



[Temperature over time] I've updated the format of the Temperature Over Time chart on the Mars Weather page to make it more readable. The sol numbers were overlapping each other, despite being broken into two rows. The chart is now interactive, in that you can use your mouse (or other pointing device) to select a position on one of the temperature graphs, and the sol number will be displayed at the bottom.
blog/articles/info/hogfather_update02.txt · Last modified: 2020/08/02 13:00 by Phil Ide
---