blog:articles:info:hogfather_update02
Media Manager
Namespaces
Choose namespace
Media Files
Files in blog:articles:info
File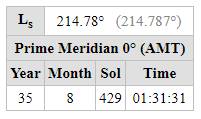 Date:

2020/06/06 15:33

Filename:

mclock_new.jpg

Format:

JPEG

Size:

28KB

Width:

201

Height:

119
References for:

Adjustment to Mars Clocks

plugin-autotooltip__default plugin-autotooltip_big

Adjustment to Mars Clocks



[Martian clock showing time at the prime meridian] The Martian clocks (keeping Martian time) on the Mars Weather page also display the L (pron. ell sub ess) - a way of describing where the planet is in its orbit, and the displacement of the sun in the sky at midday. I noticed the value for this was out by some distance, and after pondering the problem (and the code) for a while, the penny dropped.
blog/articles/info/hogfather_update02.txt · Last modified: 2020/08/02 13:00 by Phil Ide
---